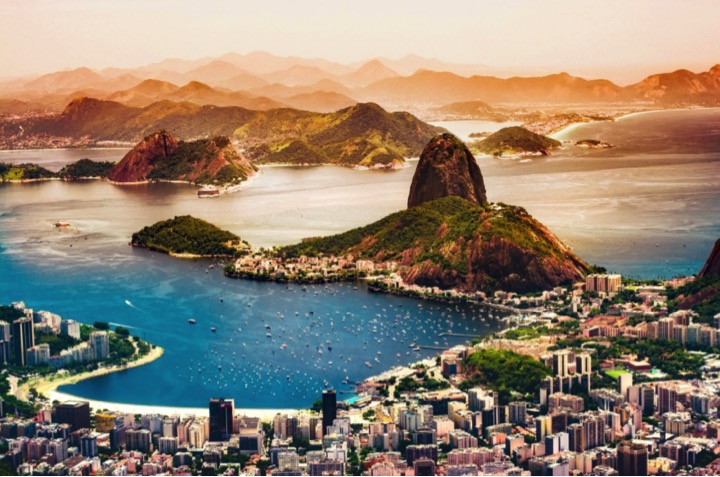 South America is the continent of the best beaches in the world. Most countries in South America have beaches. The shimmering waters from the Caribbean, Pacific, and Atlantic oceans along the coastlines relax oneself. The deep blue sea and tropical lands, the nature's gift, look beautiful and provide inner tranquility to visitors. The most famous countries in South America for beaches are Brazil, Chile, Colombia, Uruguay, Peru, and Venezuela.
Brazil
Fernando de Noronha
This is a volcanic archipelago of 21 islands in the Atlantic Ocean, located 350 km away from Brazil and near Shangri-la. It is a UNESCO World Heritage Site regarded as "eco-wonderland" and is a national park with sanctuary. The sapphire waters of the isolated islands take you from the hustle and bustle of the city life. You can cruise Fernando de Noronha and travel around the place for 3 hours. Mammal lovers frolic with sea sharks and whales and have a great time. Fishermen catch turtles, parrotfish, and crownfish. Take the picturesque sceneries of the archipelago at sunset. Hike the Sancho Bay, Coasta Azul, and Esmerelda Coast.
Rio de Janeiro
Ipanema, Joatinga, and Copacabana are three beaches in Rio de Janeiro. Sugarloaf Mountain, perched at a height of 395 m on Guanabara Bay, is the neighborhood to visit. Ipanema is a stunning beach flanked by the georgeous Dois Irmaos mountain. You can go for surfing, skim boarding, and cruising as well as walk on the neat sand resting for some time. Copacabana is the companion of Ipanema, a scalloped beach that is also good for sport enthusiasts. However, it is recommended to visit only those posts that are for visitors in these beaches, as strong waves and tides hit on the shores.
Chile
Zapallar
Zapallar is a unique lovely beach ornamented by mountains and tropical forests. The proximity of the beach to Santiago makes it ideal for night visit or day trip. The panoramic view of the mountains, sapphire sea, flip-flop waves, and golden sand is splendid. You can brave the ice cold water, look at the extreme sides of the Pacific Ocean, and go for skimming. Trail along the shell shaped promenade to enjoy the rugged rocks, rain forests, and the nice sand with the pleasant microclimate.
Algarrobo
Algarrobo is in the Valparaíso Region and surrounded by a coastline good for relaxing. It is a beach ideal for swimming and scuba diving. But before you surf, check for tides and lagoons.
Colombia
Playa Blanca
It is located in Isla Baŕu and just 40 min off Cartegana. It is one of the best Carribean beaches in Colombia for day trip and overnight stay. December and January are high season for visiting this beach.
Tayrona National Park
It constitutes the most renowned group of Carribean beaches. It is wedged by glamorous palm fringed sand, rainforests, and the majestic Sierra Nevada mountain. It stretches from Taganga to Piedras River. The Colombian beaches in this national park are Cabo San Juan, Cañaveral, Arrecifes, La Piscina, Castilletes, The Nudist Beach, and Playa Cristal.
What more? There is a wide spate of beach paradises in South America. At least you would get some snippets from our article for deciding your beach travel! Bon Voyage!