So here I am back from Belgium , memories full of head and notes of music resonating still in the ears. There is nothing to say, this bloggers trip was just perfect for me. Discovery, live concerts , independence and meetings. All that I love.
Destination Oudenaarde
Wake very early Saturday to take the Eurostar at the station of Saint-Pancras to Brussels. I'm already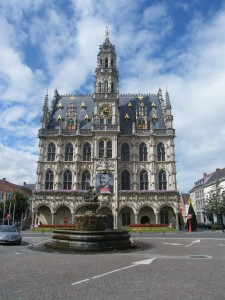 excited. A little stressed too, because everything went too fast and I feel less prepared than when I organize the trip myself. And then, I did not want to disappoint Tourism Flanders , so no need to be tired during these three days. I change my train at Brussels-noon . The station is pretty shabby on the docks. I take a comfortable two-level regional train to Oudenaarde. Hardly, let us leave Brussels that the advertisements are no longer made in French. Chic, I will be able to train my ear to the Dutchman. I understand (thanks to my years of learning German and Swedish), but I am of course unable to get out three words, except "thank you" that I probably say with a German accent!
So I arrive at 12:30 to Oudenaarde (or Oudenaarde), a small quiet town in the heart of Flanders of about 30,000 inhabitants. The city is best known for its local beer and for cycling and the Tour of Flanders , since it is the city of departure each year. When I arrive that day, the flea market is in full swing. I try to fight my way and not to lose myself by pulling my last suitcase behind me. I realize then that I have probably made a very bad choice of luggage. A suitcase on wheels in a country where all cities have paved streets … what an idea! Chouc, chch, chch, chch … nothing better to be noticed …