During my last trip to Boston , I opted for Couchsurfing and I met Bruce the green python. But that's another story … This time, I opted for a hostel and especially for the HI-Boston , very well located near Chinatown.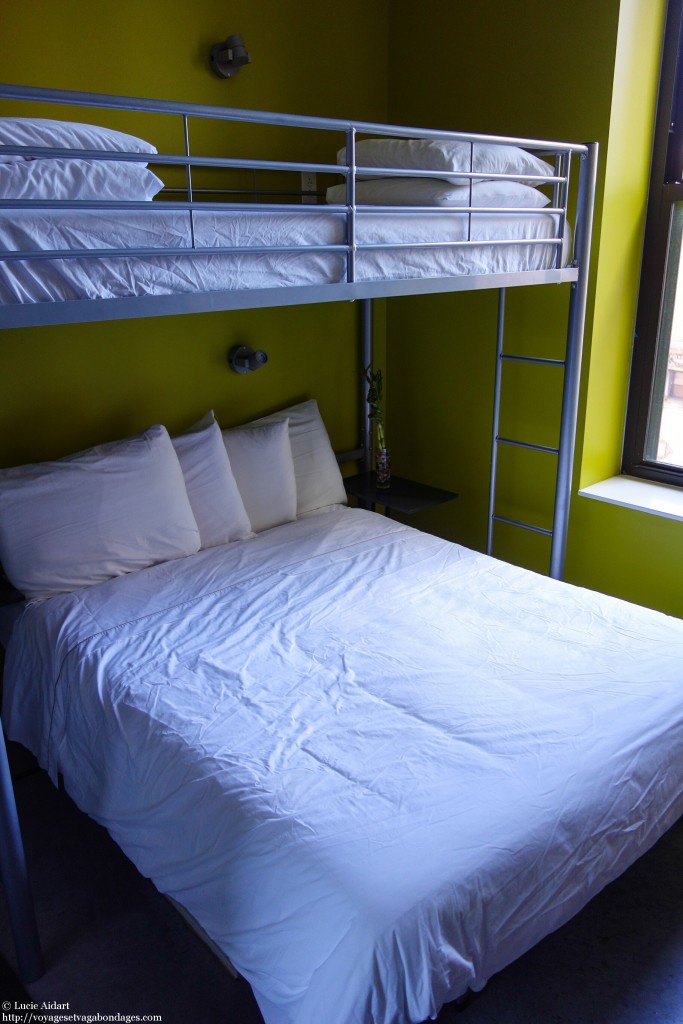 Opened just a year ago, the HI-Boston replaces the formerly popular Boston Youth Hostel created in 1980. Located on historic foundations, the property has been completely new and follows ecological standards. The hostel is in the process of obtaining LEED certification. It has about 480 beds. The values ​​at the heart of the establishment are therefore respect for the environment and a sense of community. For the environment, for example, you will notice during your stay the strong emphasis on recycling, non-waste of energy, ventilation, etc. The materials used for construction are also entirely environmentally friendly and the chairs have been made from recycled Coca-Cola bottles, for example. Throughout the building you will find QR codes, which will allow you to use your smartphone to make an ecological guided tour of the place. Sense of community too, because in addition to travelers, the local community is invited to participate in the life of the hostel, whether through meetings, conventions or local volunteers who organize activities with the local people. travelers (guided tours of the city, free yoga classes, etc.).
During my stay in Boston, I had the opportunity to test a private room with bathroom for a few days, as well as two dormitories. The private room, decorated in green tones with bamboo, was very relaxing and comfortable and had a nice view of the city. Plush bed and very clean room with all necessary amenities (coffee and tea, TV, etc.)
The dorms are also very comfortable and clean and the shared but private bathrooms are very clean. The only complaint I would make is the ventilation. Like many hostels in the United States, it is not possible to open the windows and the ventilation is constantly running. In the dormitories in Boston, (unlike private rooms) it is not adjustable, so it can be rather cold and it is especially very noisy. Even if your classmates do not snore, you will probably need ear plugs.