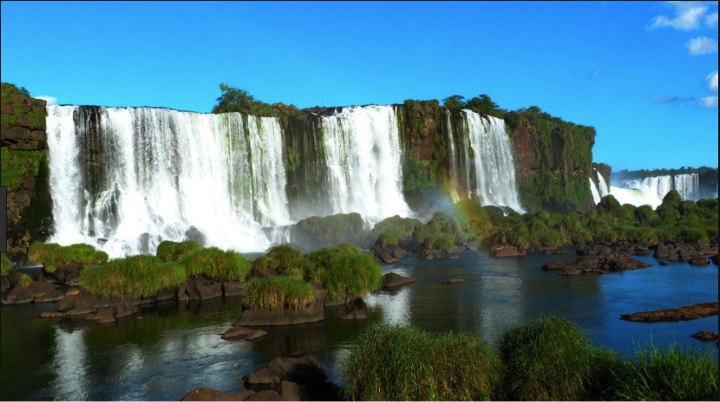 Argentina is a country of varying landscapes from jungles and deserts to mountain ranges and wetlands, encompassing vast natural beauty. It is the eighth largest country in the world. It is home to the Great Andes, glacial lakes, beaches, historic sites, wildlife, and gaucho culture.
The most favorable seasons for visiting Argentina are spring and autumn. Here are some handpicked must-see landscapes in Argentina.
Iguazu Waterfalls
This is truly the most beautiful and spectacular landscape in Argentina. It is a series of waterfalls located near the Iguazu River covering the border between Brazil and Argentina. The waterfall is surrounded by exuberant forests with a lot of wildlife. Both the falls and the forest are protected as Iguazu National park. This place is a heaven on earth with breathtaking views, excellent walkways, and adventurous boat rides.
Mendoza
Mendoza is the land of Latin America's largest wine production. It is one of the most famous tourist spot for its prolific vineyards and Mt. Aconcagua. Mendoza offers beautiful scenic outdoor adventures like hiking, river rafting, climbing, and horseback rides. The main square is the center of Mendoza having many restaurants, shops, and licensed breweries for different budgets.
Mar del Plata
This coastal city is located in the southeast part of Buenos Aires region and has a string of beach resorts. The city boasts some exotic sandy beaches the country has to offer and so is one of the most popular tourist spots. As it is crowded in summer, prefer to travel to this destination during off-summer periods.
Perito Moreno Glacier
This boisterous glacier is situated in the Los Glaciares National Park in the Santa Cruz Province of Argentina. Since the inception of the National Park, this place has become a teeming tourist spot visited by millions of tourists. The glacier presents a spectacular view of cracking and thunderous boom of blocks of ice breaking away. El Calafate, a small town, is the starting point for the visit to this magnificent glacier. The town was unknown before the starting of the National park, but now it has good souvenir shops and some nice restaurants.
Ibera Wetlands
The second largest wetlands in the world after Brazil's Pantanal, Ibera is home to anacondas, howler monkeys, caimans, armadillos, and many other species. Having more than 350 rare bird species, this is an ideal spot for birdwatchers and nature lovers.
Valdes Peninsula
This peninsula attracts penguins, sea lions, and other sea mammals. Pods of whales can be found in between this peninsula and the Patagonian Mainland during May to December. Tourists may also see foxes, maras, rheas, and other endangered species in this less populated land. The variety of wildlife makes this a worth-watch tourist spot in the whole of South America.